DT002CV - DAYTRIP HONDA CIVIC BLACK 50th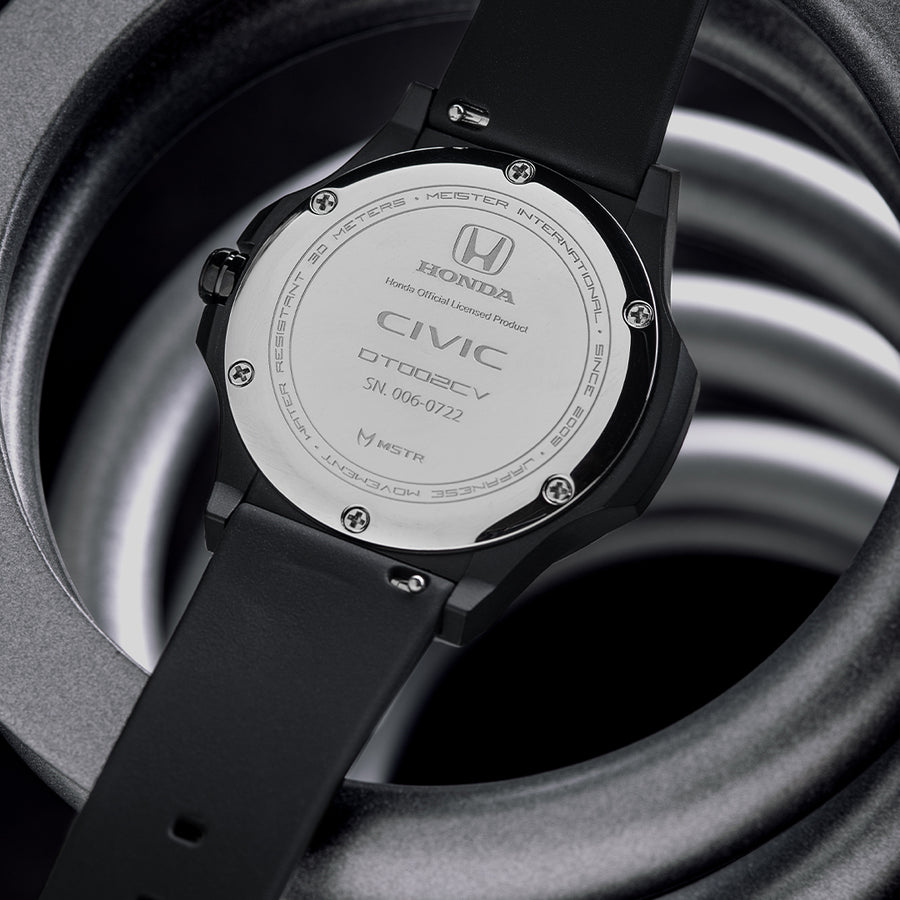 Celebrate the 50th anniversary of the iconic Honda Civic with our limited edition Day Trip watch collection. Inspired by the sporty design of the Day Trip, these watches are a perfect reflection of the Civic's enduring style and performance. Each watch features a 3-hand Day or Date Japanese movement, ensuring precise timekeeping and reliability. With an interchangeable strap included, you can customize your watch to suit your style. These watches come in collectible boxes with display stands, making them the perfect addition to any Honda or watch enthusiast's collection. Don't miss out on this exclusive opportunity to own a piece of automotive and horological history. Get your hands on the Honda Civic 50th Anniversary Day Trip watch collection today.
DT001SI - DAYTRIP CIVIC SI RALLYE RED 50TH
Introducing the Rallye Red Civic Si watch, the perfect accessory for any Honda fan or racing enthusiast. This watch features a bold and striking design inspired by the iconic Civic Si in Rallye Red. The multi-layer black and red dial perfectly matches the exterior of the car, while the Civic Si logo on the band adds an extra touch of style. With a Japanese movement, this watch provides reliable and accurate timekeeping, ensuring that you are always on time. Whether you're hitting the track or cruising down the highway, this watch is the perfect way to show your love for the Civic Si.
DT002CV - DAYTRIP HONDA CIVIC BLACK 50TH
Introducing the Black Daytrip Honda Civic watch, the perfect timepiece for any fan of the iconic Japanese car brand. This sleek and stylish watch features a black on black multi-layer dial and watch case, with the Civic logo in white on the silicone band for a subtle yet distinctive touch. The red second hand adds a pop of color and enhances the watch's sporty design. With its reliable Japanese movement, this watch is not only stylish but also accurate and precise. Whether you're a die-hard Honda fan or simply appreciate high-quality timepieces, the Black Daytrip Honda Civic watch is the perfect addition to your collection.
DT003CV - DAYTRIP HONDA CIVIC GRAY 50TH
Introducing the Gray Honda Civic Day trip watch, a stylish and functional timepiece that celebrates the iconic Japanese car brand. With a sleek two-tone black and gray dial and contrasting white numbers, this watch offers a modern and sophisticated look. The Civic logo is prominently displayed on the strap in white, adding a touch of personality to the design. The black crown and other accents add to the two-tone aesthetic, making this a great addition to any outfit. This watch features a reliable Japanese movement and comes with an interchangeable strap, so you can easily switch up your style.
DT004TR - DAYTRIP TYPE R CHAMP WHITE 50TH
Introducing the Honda Type R Civic watch, inspired by the high-performance sports car. This limited-edition watch comes in the iconic Championship White colorway and features a bold red outer track and multi-layer dial with the Type R logo. The watch face also includes the iconic Red H emblem logo, making it a must-have for Honda enthusiasts. Powered by a reliable Day & Date Calendar Japanese Movement, this watch is not only stylish but functional as well. Don't miss your chance to own a piece of Honda history.